Top Ten Tuesday is a weekly meme hosted by
The Broke and the Bookish
, a state that you don't have to worry about being deprived of more books as long as you're near a library. ;) This week's Top Ten is:
Top Ten Books I'm so Happy were Recommended to Me
1.
Shiver
by Maggie Stiefvater - This one was actually a Christmas gift from Karen who believed that I would love it. What can I say? She was right, and I cannot wait for the conclusion to the trilogy on July 12.
2.
Blood and Chocolate
by Annette Curtis Klause - I'd seen this one on the shelves before but I was hesitant to pick it up. Then, it was shoved into my hands and I was ordered to read it (by Karen), and I read it in one night. Two words...awesome read.
3. Poison Study by Maria V. Snyder - As I'm sure I've said in posts about Maria V. Snyder's books before, it was another recommend (by Karen), and I now own all 6 novels that take place in Ixia and Sitia, the Study trilogy and the Glass trilogy.
4. Fruits Basket by Natsuki Takaya - This one is a manga, and it came highly recommended from several friends back in college. I highly recommend it to anyone not just anime and manga lovers simply because anyone can enjoy the story.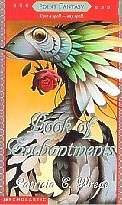 5. Book of Enchantments by Patricia Wrede - This collection of short stories came recommended by both of my roommates this time. ;) It was a great anthology and even includes a recipe, a nice bonus!
6. Wolf and Raven by Michael A. Stackpole - This Shadowrun novel was recommended by my beau, and I thought it was an excellent combination of both science fiction and fantasy. Futuristic dystopia involving the reintroduction of magic in society...quite the tale to tell.
7. ttyl by Lauren Myracle - I have to thank one of my coworkers for recommending this amazing book that's told entirely through texts and instant messages. Myracle pulls it off very nicely with this series. :)
8. Color of Earth by Kim Dong Hwa - This is the only one that came professionally recommended via a review in Library Journal. The entire trilogy was excellent and I was happy to find it in our library system. :)
9. Howl's Moving Castle by Diana Wynne Jones - A friend from college recommended this one, and it's one "classic fantasy" I will definitely keep in my collection.
10.
The Enchanted Forest Chronicles
by Patricia Wrede - Yet another one recommended by Karen, though I had heard of the four books that make up this entire collection, Dealing with Dragons/Searching for Dragons/Calling on Dragons/Talking to Dragons. It's a great combination of humor and fantasy about a princess who doesn't want to be rescued from the dragon.